Exchanging SARS-CoV-2 mutational information in a fast and accessible way is becoming more important as specific mutations arise (e.g. D614G). These mutations may not have a significant impact on the virus or the host, but the ability to rapidly compare mutation frequencies across regions or countries has numerous potential applications. For example, sudden changes in observed mutation frequencies can indicate the emergence of a new outbreak cluster, providing public health officials with valuable information to contain the spread of the virus. Additionally, comparing the occurrence of individual mutations across different regions of the world can help identify mutations with potential clinical consequences, allowing healthcare professionals to prepare and respond accordingly. Access to this type of mutational information can be essential for developing effective treatments and vaccines, and it is critical that the information is shared in a fast, secure and accessible manner to help combat the ongoing pandemic.
A well established genomic variant sharing protocol in the human genomics space is Beacon,  developed by the Global Alliance for Genomic Health.  We have adapted the Beacon protocol to creating a purpose-built viral-variation exchange platform, that can serve out viral mutation frequencies from distributed data sources. The adapted protocol ensures that data ownership is preserved, while enabling valuable insights to be generated from separate data sources. By creating a secure and accessible data-sharing platform, researchers and healthcare professionals can gain valuable insights from separate data sources, which can help identify trends and patterns that may be difficult to detect through individual data sets. This viral-variation exchange platform, PathSBeacon is making a significant contribution to the fight against the COVID-19 pandemic by enabling the exchange of critical information and insights to help combat the virus.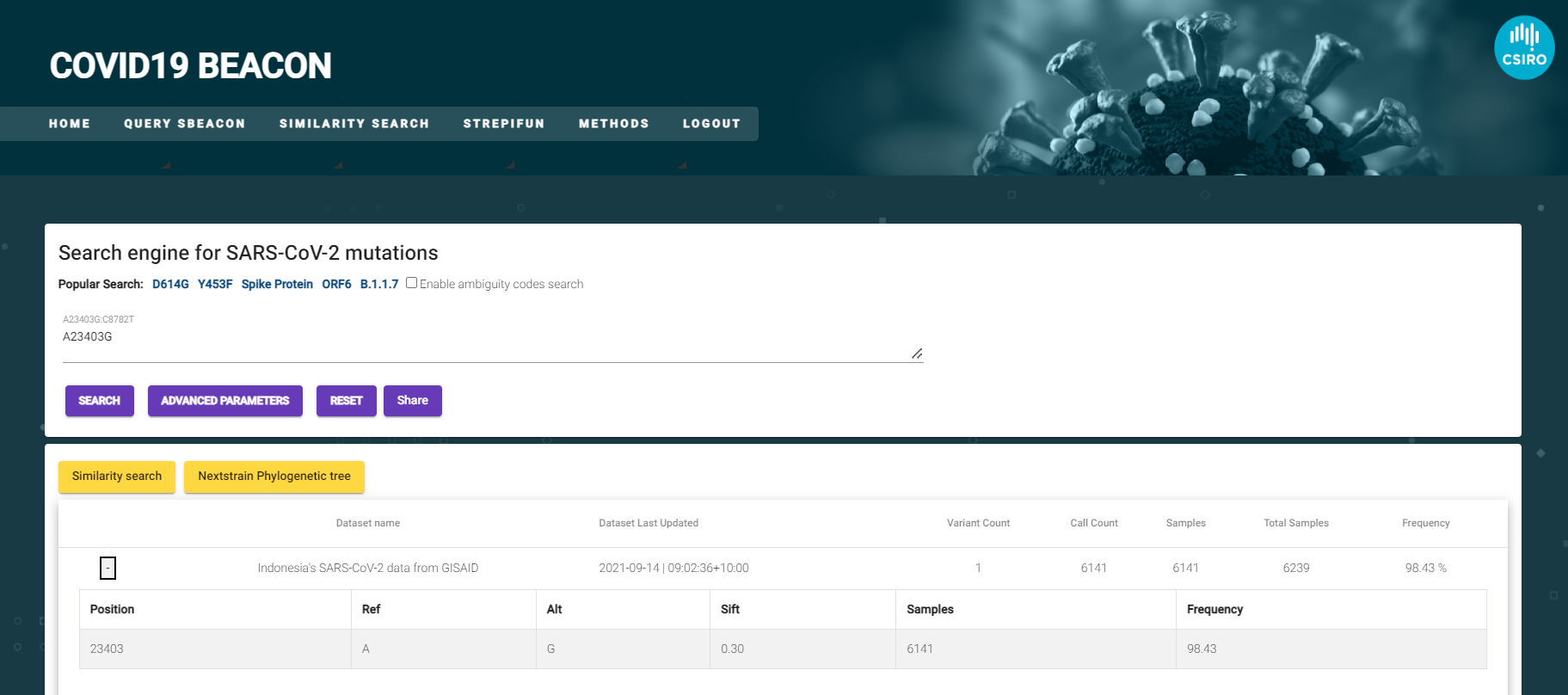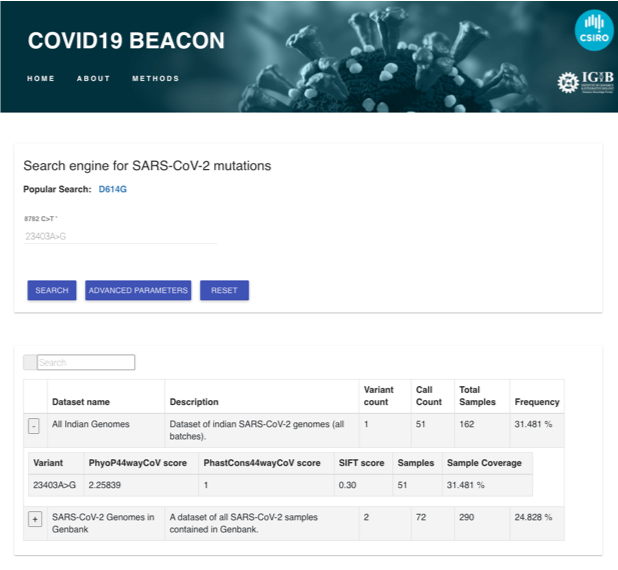 In March 2020 DNAstack announced that they also successfully adapted Beacon to cater for RNA virus data resulting in the COVID-19 Beacon. Below we outline the differences between the two implementations. E.g. CSIRO's COVID Beacon, extends our Serverless Beacon, a cloud-native implementation of the Beacon protocol, which reduces resource consumption up to 500-fold, COVID-19 sBeacon is one of the most resource-efficient and functionally rich solutions for sharing viral variant information.
| | Beacon | COVID-19 Beacon | COVID-19 sBeacon |
| --- | --- | --- | --- |
| variant frequency | ✔ | ✔ | ✔ |
| IUPAC allowed | 𐄂 | ✔ | ✔ |
| Range search | 𐄂 | 𐄂 | ✔ |
| Clades | 𐄂 | 𐄂 | ✔ |
| custom denominator | 𐄂 | 𐄂 | ✔ |
Pricing